GET OWNER FINANCING WHEN YOU BUY LAND IN TEXAS
Want to buy land, but having trouble finding a loan?
Now you can get owner financed land in Texas right here at Texas Acres. We can show you how to owner finance land in Texas to streamline the process.
---
What Is Owner Financing?
Owner financed land is land that you buy without a traditional bank loan. Instead, you make payments directly to the seller until the property is paid off. Owner financing is also known as "seller financing" or "owner will carry."
What Are Down Payment Requirements?
We typically ask for 10% of the purchase price down. However, we try to offer flexibility to work with your budget.
WHAT ARE THE OWNER FINANCING PROS AND CONS?
If you're considering owner financing, the benefits you can experience are numerous.
There is more flexibility. While we still accept conventional financing options and Texas Veteran Land Board financing, our owner financing terms can be flexible. We can work with you on the length of your note and the amount of your down payment.
It can be more difficult to qualify for a reasonable bank loan, or to come up with the full price in cash. With owner financing, you can have the convenience of making payments straight to the owner _.
We streamline the closing process. We prepare our own closing documents without the time and cost involved with a title company or bank.
Closing costs will be lower. The only fee we require  is your down payment.
WHAT IS THE INTEREST RATE FOR OWNER FINANCING?
As with a loan obtained from the bank, the interest rate depends on market fluctuations.  Typically our interest rates are higher than a bank, however unlike many banks, our interest rates will be a fixed rate for the life of the loan so that your payment can never go up. Contact Texas Acres to find out what our current interest rates are.
DO YOU NEED A DOWN PAYMENT FOR OWNER FINANCING?
As with any land purchase, regardless of what financing option you go with, a down payment is needed. We typically ask for 10% down; however, we are open to negotiating with the buyer for a lower amount in many cases.
IS OWNER FINANCING LIKE RENT TO OWN?
Absolutely not. With owner financing, the seller acts like a bank and offers financing directly to the buyer. Upon purchasing the land, the buyer officially becomes the owner of the land and is given the deed, which is not the case in most rent to own scenarios.
HOW DO YOU NEGOTIATE OWNER FINANCING?
We look at your financial picture, listen to your requests, and work with you whenever possible. Our goal is to make land ownership a simple process for you. If you would like to negotiate owner financing terms, feel free to talk with us.
WHAT ARE THE RISKS OF OWNER FINANCING?
For you as a buyer, there is no added risk to going with an owner financing option. In fact, this alternative can make it simpler for you to purchase land. If banks have refused to provide you with a traditional loan, then owner financing may be your ticket to owning beautiful land in East Texas!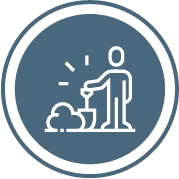 CAN YOU BUILD ON OWNER FINANCED LAND?
Building on your land depends on many factors beyond whether or not it's owner financed. For this reason, we urge you to check with us and with local authorities first to determine what is feasible on the property and what restrictions allow. In most cases, however, the answer is yes, you can build on your owner financed land.
IF I QUALIFY FOR BOTH OWNER FINANCING AND A CONVENTIONAL LOAN, WHICH SHOULD I GO WITH?
We will be happy to talk with you to help you understand what the terms are with each option so that you can make an informed decision when choosing your type of financing.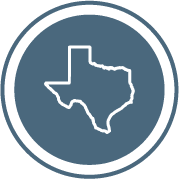 HOW DO I FIND OWNER FINANCED LAND IN TEXAS?
It's easy! Simply visit our property search page and you'll find a large number of available properties. We have farms, acreage, and land in Texas, often in Henderson County and Anderson County, but also in Houston County, Caldwell County, Comanche County, Tyler County, Leon County, Navarro County, and Kaufman County. Looking for land for sale with owner financing elsewhere? We are continuously offering new properties as inventory becomes available. Check back to our site often, or sign up below to receive updates.
HOW DOES OWNER FINANCING WORK WITH TEXAS ACRES?
We own all the properties that we have for sale, so we are able to offer you the option of bypassing the hassle of a bank loan and  financing your property directly from us. Don't put off this amazing opportunity to buy the property you've always dreamed of. Check out our inventory today!